Dr.UMS Lite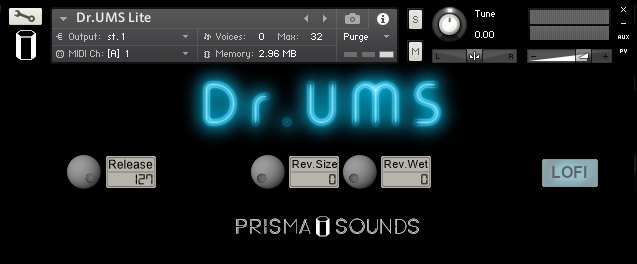 Dr.UMS Lite is the free little brother of Dr.UMS, a Kontakt sampled version of the Boss Dr. Rhythm DR-550. The DR-550 a stepping stone in the drum machine territory, delivering its 48-pieces kit sounds to the reach of the first home-producers. It featured an LCD to program patterns, choosing the sounds and adding basic effects.
Prisma Sounds Dr.UMS was made sampling each kit piece from the original DR-550 at 24-bit, whose accent control is mapped to velocity. It comprehends two instruments: one where the sounds are laid out according to the standard drum map, with the option to select kit pieces, or spread out the keyboard to provide complete layering freedom. Additionally, Dr.UMS offers the possibility to control the release of samples, the reverb settings and to add a Lofi effect. Dr.UMS Lite offers all the same functionalities as Dr.UMS in a more compact form, limited only by the amount of samples.
Features:
35 of the 48 kit pieces of the DR-550, sampled at 24 bits;
Includes 2 kicks (out of 5), 3 snares (out of 6) and 1 hi-hat (instead of 2);
Velocity control of Accents;
Release, Reverb Size, Reverb Wetness and Lofi effect.
Dr.UMS Lite is compatible with Kontakt 5.8.1 and above, and requires the full version of Kontakt.
Do you have a demo featuring this product? Let us hear it!*
*The demos displayed refer to the full version.